We are already running the countdown for Christmas! Finally, It's high time to shift your mood towards the festivities ahead. Various combinations of red and green with layers is often our go-to choice for every evening. But to make things stand out you need more than just the typical green & red combination. From a number of official events to family get-togethers, you'll want to make sure your choice is as comfy and yet stylish for the season.
If you haven't set your wardrobe for all of the events, worry no more. We have got the perfect outfit ideas for you to look forward to.
Let's hop on the trend train with:
Keeping it real with a CASUAL OUTFIT:
If you're going to a party that requires a casual outfit, now is the time to experiment with your wardrobe. Go for ripped jeans and pair them with a cropped sweater and a pair of funky shoes.
In case you want to balance between your smart and casual look and the comfort you can get rid of the jeans in this situation. Wear a skirtwith a printed shirt or a solid top, layer a coat or jacket and add heels. A maxi dress coupled with a leather coat or jacket is always a good choice if you're seeking something cute and comfortable. This is ideal for women of all shapes and sizes. Or if you are looking for something more classy and casual, style may also be achieved by wearing black jeggings with a maroon top/shirt/sweater and adding an edge to your look with ankle-length boots.
WINTER LOOK for Christmas. 
Layering adds an extra factor to your attire along with keeping you away from freezing in this chilly season. It's doable as long as each layer stands out and looks amazing. Additionally, you can easily shed some of the layers halfway through the party or the event. Choose your ideal winter essentials, then add some bright complimenting outfits.
Wear your favourite pair of jeans with a turtleneck or sweater and killer wedge boots or heels. If you want to add more warmth, use a well-fitting winter coat with a noticeable belt around the waist. Don't forget to finish it off with a sling bag or a shoulder bag to carry your essentials.
The perfect FORMAL party attire. 
A full-length black gown can be an option for a formal party or get-together. You can, however, stand out in a strapless or backless dress and layer it up with an overcoat or a jacket. Add in some accessories with diamonds along with a clutch or a purse. Make sure that everything you choose gives you an elegant and polished appearance.
Red velvet pants are a great option for making a statement at a formal event. Combine the pants with a turtleneck and a wrap top for a stylish look. This entire look can be as relaxing as a pair of pyjamas.
Hype the COCKTAIL party look. 
Wearing exciting vivid colors is perfect to bring out the festivities. A dressing red or green will look fantastic. However, if you want to keep things professional, you can choose lighter hues.
Wear slacks, a matching jacket, and a boot to complete the look, especially during the colder months. Wear a leather pencil skirt with a long coat over a shirt for a stylish look. For a more sleek look mix it up with a pair of elegant heels, it will look much better.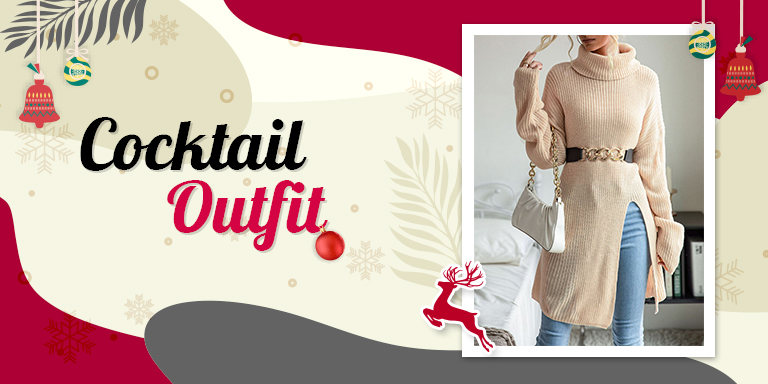 Keep it CLASSY for the church party.
When it comes to dressing for a church Christmas party, the rule of thumb is to be modest. Nonetheless, don't be afraid to experiment with festive patterns and colors. Try trousers or jeans with a solid color sweater. Hop on with sneakers, flat boots or formal shoes. Or simply opt for patterned or solid colored dresses for the evening.
Throw some GLITTER with seasonal jewelry. 
Winter colors like brown, charcoal, and navy look great with vivid gemstones and metal jewelry. Rose gold or yellow gold are good metal choices since they complement dark-hued clothes. You can choose gemstones in festive colors like red, green, and blue, or striking gems in pink, purple and yellow to add the oomph factor. All of these bright and glittering pieces will look great with your every winter outfit.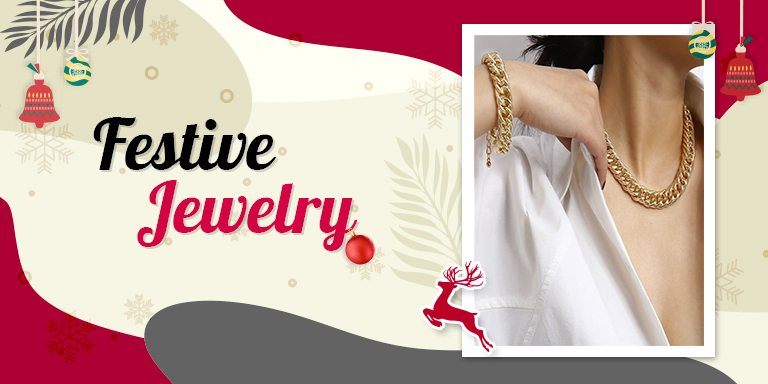 Grab the Christmas offers on TOBWholesale. 
On TOBWholesale you can easily avail exciting offers for every Christmas event. Glow for the evening with pretty outfit ideas that you can shop from our store within seconds- and on budget.
Feel free to browse different categories and product lines on our store to grab the offers for the season.
Merry Christmas y'all!